How to Choose the Correct Remedy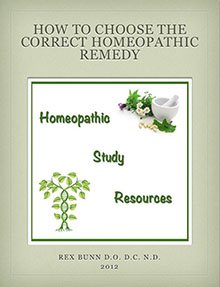 For the homeopath, no part of the treatment process is more important than the selection of the appropriate remedy. If the correct remedy is not chosen, the patient will not experience any perceptible changes in their condition. The more closely the symptoms of the remedy match those of the patient, the greater will be the degree of resonance between the two, and the greater the likelihood of a successful outcome.
The difficulty for homeopaths has always been the classification and grading of symptoms. Which symptoms are the most important? Which symptoms can be ignored? Hahnemann identified this problem in the Organon, and successive homeopaths have attempted to elaborate on his work, with the objective of formulating a system of symptom categorisation.
This book by Homeopathy Course Online co-ordinator, Rex Bunn, presents a detailed guide as to the best method of selecting the correct Homeopathic Remedy, in accordance with the classical approach to Homeopathy as established by its founder, Samuel Hahnemann. It draws on the expertise of past masters of the Homeopathic tradition, including Noel Puddephatt, Herbert Roberts, M.D., and R. G. Miller, M.B.
The book provides an accessible, comprehensive resource for the student of Homeopathy, as well as the established practitioner.
DOWNLOAD A FREE SAMPLE OF THE TEXT HERE
The package includes three separate files:
MOBI (for Kindle & MobiPocket readers),
EPUB (for Sony eReader, iPad, iPhone, ipod touch, Nook, Kobo etc.)
PDF (for computer, printing etc.)
All versions are included in a single zip file. Price: $3.95 (USD)
Clicking on the "Add to Cart" Button will add the item to your shopping cart.
When you have finished shopping, click on the "Checkout" button to complete your purchase*
*your PayPal payment will be made via 42 South Productions.