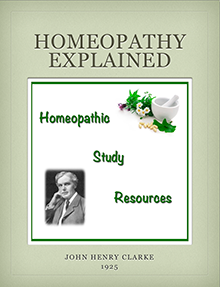 John Henry Clarke's Homeopathy Explained, written in 1905, provides an excellent introduction to the subject of Homeopathy. It includes a concise biography of  the founder of Homeopathy, Samuel Hahnemann, and wide ranging information about the author's experiences as a Homeopath, including case histories and comparisons with conventional medicine.
We have completely reformatted the book to make it accessible on a wide range of digital devices, including Kindle, iPad, iPhone, Sony eReader and many more.
The package includes three separate files:
MOBI (for Kindle & MobiPocket readers),
EPUB (for Sony eReader, iPad, iPhone, ipod touch, Nook, Kobo etc.)
PDF (for computer, printing etc.)
All formats include a comprehensive navigation system, which means you can rapidly access different parts of the document, without having to scroll through from the beginning.
All versions are included in a single zip file. Price: $2.95 (USD)
Clicking on the "Add to Cart" Button will add the item to your shopping cart.
When you have finished shopping, click on the "Checkout" button to complete your purchase*
*your PayPal payment will be made via 42 South Productions.